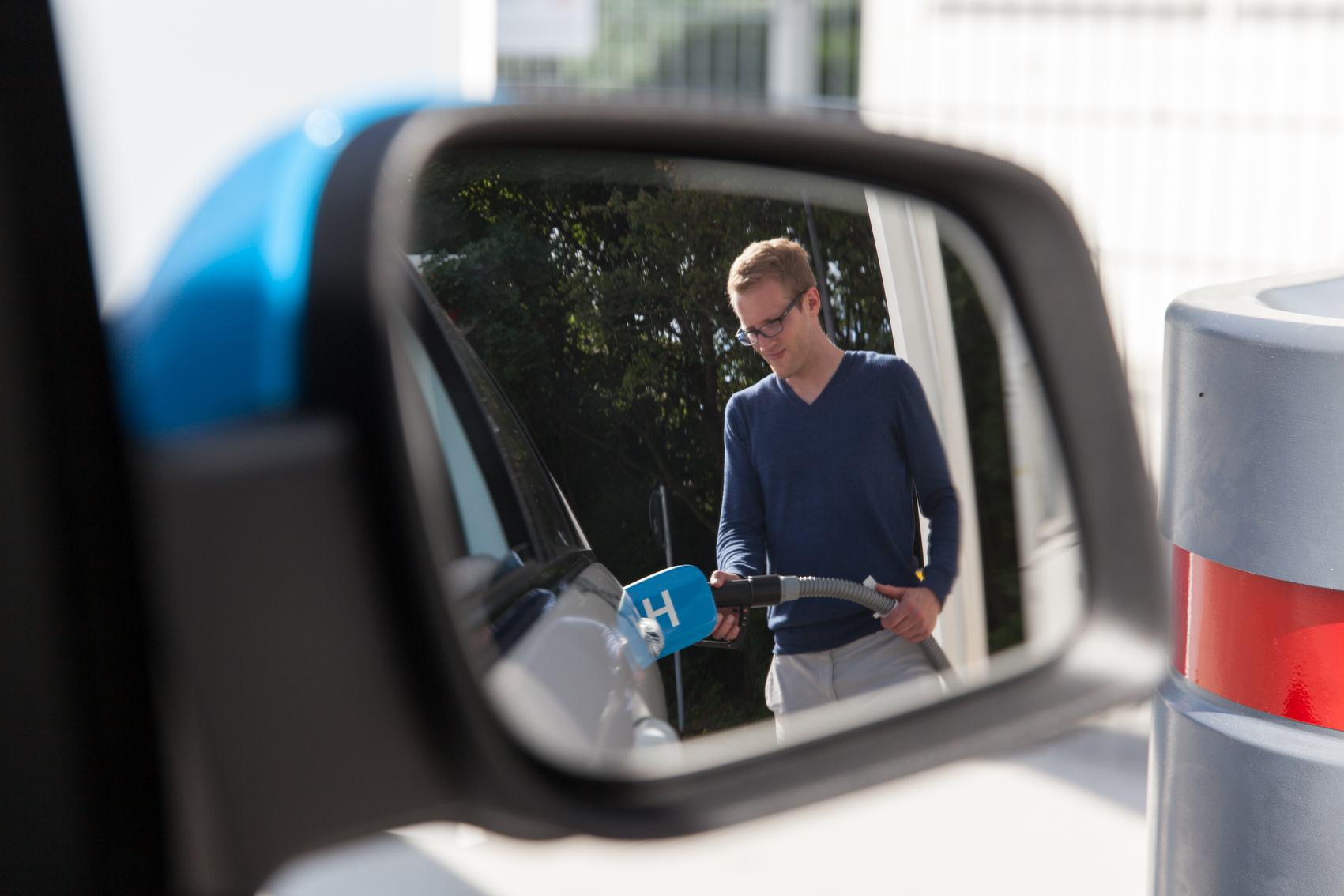 Hannover Messe 2019, Hall 27
Hydrogen (H2): clean mobility, climate protection, and sector coupling in conjunction with high usability. H2 MOBILITY Deutschland, the Clean Energy Partnership (CEP), NOW GmbH, the German Hydrogen and Fuel Cell Association (DWV), the German Technical and Scientific Association for Gas and Water (DVGW), and e.GO REX GmbH will jointly form a focal point within the Hannover Messe's Hydrogen and Fuel Cells EUROPE exhibition at the 2019 Hanover Fair. Aspects of the H2 infrastructure that are currently important, fuel cell mobility, funding programmes, and technology initiatives will be addressed. A worldwide first from the Aachen-based start-up e.GO REX will also be on display: the Mover e-minibus with a fuel-cell range extender. Another highlight: On April 1, we will join Olaf Lies, Lower Saxony's Minister for Environment, Energy, Building, and Climate Protection, in inaugurating the new H2 filling station at the Shell service station right by the trade-fair grounds at Karlsruher Str. 12 in Hannover's Laatzen district.
Ride, Refuel & Talk at Hannover Messe 2019
In the Ride, Refuel & Talk, visitors to the Hannover Messe can experience for themselves the practicality of hydrogen mobility in everyday life. Four fuel-cell vehicles – Hyundai (NEXO), Mercedes Benz (GLC F-CELL), Toyota (Mirai) – are available on the outdoor area in front of Hall 27. On request, a refuelling can also be carried out at the newly opened Laatzen hydrogen station.
H2 MOBILITY Deutschland
Hydrogen's suitability for everyday use begins with an extensive network of hydrogen filling stations, as is currently being set up in Germany. H2 MOBILITY has dedicated itself to this task – which is unprecedented in this form: there is no comparable entrepreneurial initiative anywhere else in the world that sees the introduction of a zero-emissions fuel as a national duty and is driving it forward.
The first goal is to operate 100 H2 filling stations in the seven major metropolitan areas of Hamburg, Berlin, Rhine-Ruhr, Frankfurt, Nuremberg, Stuttgart, and Munich, as well as along the arterial roads and motorways that connect these hubs. H2 MOBILITY will handle all of the operational tasks, including network planning, permitting, procurement, construction, and operation of the filling stations. Its shareholders are Air Liquide, Daimler, Linde, OMV, Shell, and TOTAL. (We are Hydrogen, Hall 27, Stand B55)
Clean Energy Partnership (CEP)
The partners in the Clean Energy Partnership (CEP) are working across multiple sectors towards the market activation of hydrogen and fuel-cell mobility as part of a sustainable energy transition. The industrial partnership transfers the experience gained in the car sector to other modes of transport, promotes sector coupling, and develops business models for hydrogen production from renewable energy. The CEP focuses on the road capability of powerful vehicles, fast and safe refuelling, and the systems compatibility of accompanying technologies for optimised production, storage and logistics. Air Liquide, Audi, BMW, Daimler, GP Joule, H2 MOBILITY, Honda, Hyundai, Linde, OMV, Shell, Total, Toyota, and the Westfalen Group are all involved in the project. (We are Hydrogen, Hall 27, Stand B55)
NOW GmbH
NOW GmbH stands for holistically conceived, clean and efficient electric mobility in an integrated energy system using the key technologies of battery, hydrogen, and fuel cell. Drawing on its technical expertise, NOW coordinates funding programmes in the field of alternative fuels and propulsion systems, and advises the German government in these areas. It analyses and evaluates relevant projects and studies, develops strategies for implementing new and existing programmes and instruments, and provides input on the regulatory framework at national and European level. (Hall 27, Stand B59)
German Hydrogen and Fuel Cell Association (DWV)
The German Hydrogen and Fuel Cell Association (DWV) represents firms that employ more than 1.5 million people in Germany, and therefore a decisive component of German business. Our aim is to introduce all aspects of a future supply infrastructure with hydrogen, its production, and energy-related use – in particular the use of fuel cells to convert energy – into a discussion of facts and the future, and to actively shape market developments.  (Hall 27, Stand B49)
German Technical and Scientific Association for Gas and Water (DVGW)
As a recognised regulatory institution, a technical and scientific source of expertise, and promoter of technical innovations, the DVGW is the competence network for all matters relating to the supply of drinking water and energy gases such as natural gas. Technical concepts for the integration, transport, and storage of synthetically produced 'green' gases using the existing gas infrastructure are a key area of the DVGW's work. The DVGW also does studies to research the potential of regenerative gases in Germany. From the results, it derives recommendations for regulatory instruments that accelerate climate protection with green gases. The use of hydrogen and other green gases such as methane and biogas is the key to the success of the energy transition, especially in the transport sector. (Hall 27, Stand B49)
e.GO REX GmbH
This start-up from Aachen's Engineering Valley is advancing the development of a scalable fuel-cell range extender for e-vehicles. A range extender means that the fuel cell supplies the engine with power via the traction batteries. One advantage lies in the potential industrialisation of production, which can be more easily achieved using the fuel cell as a range extender. With the e.GO Mover, e.GO REX is already presenting a world first in Hanover: the first autonomous electric minibus equipped with a fuel-cell range extender. (Hall 27, Stand B45)
Dates and lectures:
On Tuesday, 02.04. at 13:40 the Clean Energy Partnership and H2 MOBILITY will report on hydrogen in everyday life in Germany in the Public Forum – title: We are Hydrogen
The inauguration of the Laatzen hydrogen station at the Shell station at Karlsruher Str. 12 will take place on 01 April 19 at 12:15 as a press conference.
Other lectures (Full schedule posted here):
Monday: "Hydrogen in Heavy Duty and Public Transport – Status quo, Potential and Challenges" (Elena Hof, Programm Manager NIP, NOW GmbH)
Tuesday: "HyLand – Hydrogen Regions in Germany" (Thorsten Herbert, Divisional Head Transport and Infrastructure | Head of Programme NIP, NOW GmbH)
"40 GW Electrolyzer Alliance – Incubator for a European industry leadership" (Werner Diwald, Chairman of the board, DWV)
Wednesday: "International Cooperation for a Global Hydrogen Economy" Dr Geert Tjarks, Divisional Head International Cooperations, NOW GmbH)
"Hydrogen Industry – Economic chance for regions of structural change?" (Werner Diwald, Chairman of the board, DWV)
Thursday: "Towards zero-emission mobility in commercial transport" (Johannes Daum, Team Leader Power-Based Fuels and Head of Programme Mobility and Fuel Strategy (MKS), NOW GmbH)
"E-Fuels – Transition solution for low carbon emission mobility?" (Werner Diwald, Chairman of the board, DWV)
CONTACT DETAILS:
Clean Energy Partnership (CEP)
Kristin Bube: (c/o: be: public relations GmbH), +49 (0)40 238 05 87 95, cep@bepr.de
Deutscher Wasserstoff- und Brennstoffzellen-Verband e.V. (DWV)
Werner Diwald, Tel.: +49 172 397 4410, diwald@dwv-info.de
Deutscher Verein des Gas- und Wasserfaches e.V. (DVGW)
Sabine Wächter, +49 (0) 228 9188-609, waechter@dvgw.de
e.GO REX GmbH
Stefan Dany, CEO e.GO REX (stefan.dany@e-go-rex.com)
H2 MOBILITY Deutschland
Sybille Riepe: +49 (0)170 58 70 317, riepe@h2-mobility.de
NOW – Nationale Organisation Wasserstoff und Brennstoffzellentechnologie
Nina Posdziech: +49-(0)30-311 61 16-44, nina.posdziech@now-gmbh.de