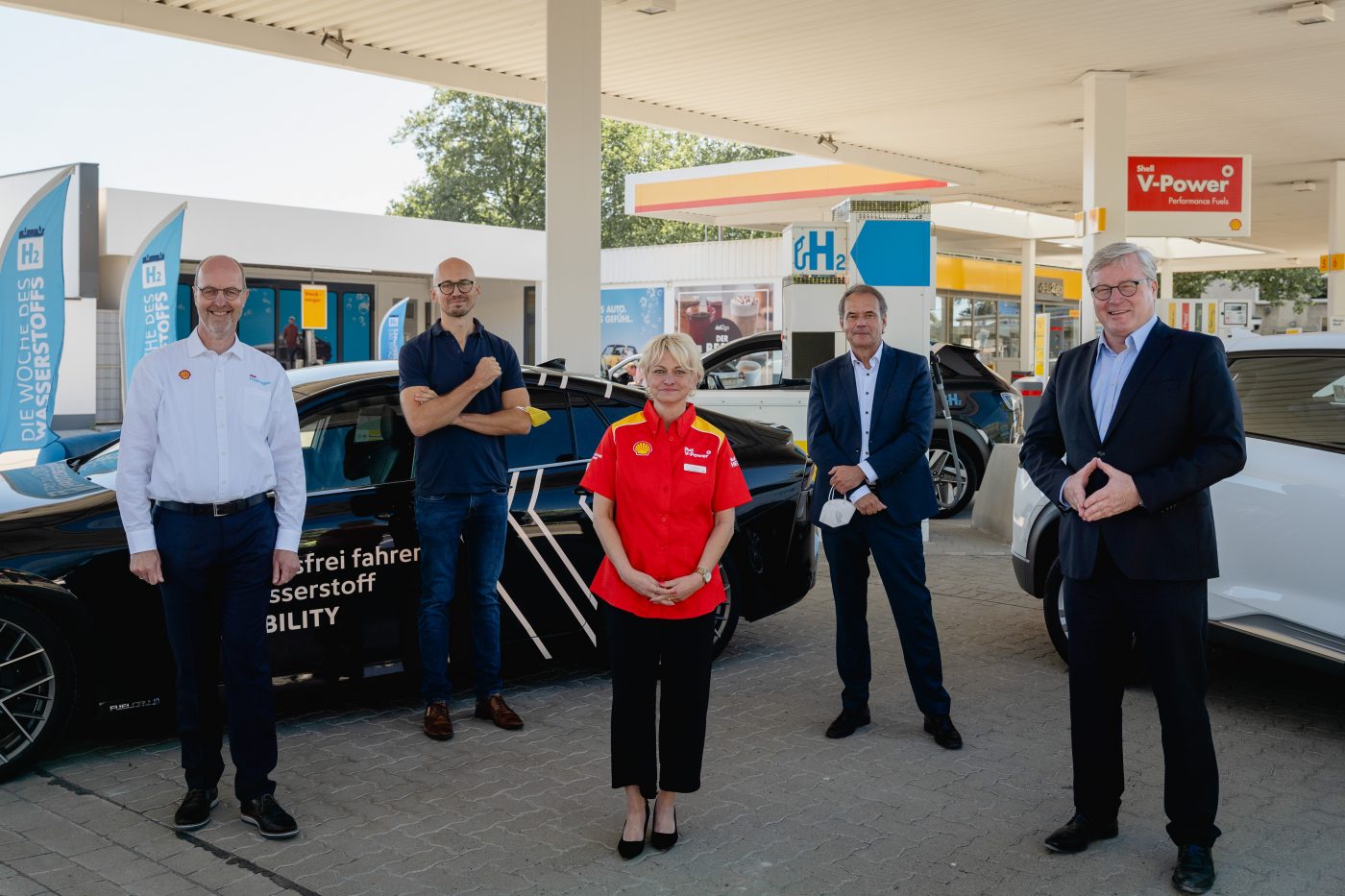 Braunschweig 14 Jun 2021 | While various large-scale projects for the production of green hydrogen (H2) are about to commence in Germany, the hydrogen user side is also growing continuously. The nationwide network of hydrogen filling stations for fuel-cells  passenger cars now comprises 91 stations. As part of the WOCHE DES WASSERSTOFFS NORD 2021 ('Week of Hydrogen  North'), Lower Saxony's Minister of Economics, Labour, Transport and Digitalisation Dr Bernd Althusmann and Braunschweig's Mayor Ulrich Markurth today visited the H2 MOBILITY facility at the Shell station on Hamburger Strasse in Braunschweig. The filling station technology comes from the gas and tech company Air Liquide.
WOCHE DES WASSERSTOFFS NORD 2021, a week celebrating hydrogen that is sponsored by the five North German federal states, has the aim of communicating hydrogen in an appealing way across all sectors. At an H2 filling station, like the one at the Shell station in Braunschweig, people can experience hydrogen mobility first-hand.
Dr Bernd Althusmann, Minister for Economics, Labour, Transport and Digitalisation of the State of Lower Saxony, said at a press briefing: "Lower Saxony offers the right environment for developing a full-scale hydrogen economy. We need to exploit the outstanding potential of this molecule much more extensively and gradually harness it. Our state can become a role model and technology leader on the path towards climate-neutral mobility and economy, without losing sight of Lower Saxony as an industrial hub. This also definitely includes the possibilities that hydrogen opens up in the transport sector. For road-based hydrogen mobility, a good network of filling stations is an important milestone."
Braunschweig's Mayor Ulrich Markurth emphasised: "As a mobility centre and as one of the most research-intensive regions in Europe, we have numerous interesting research approaches and projects here on the topic of hydrogen and mobility. With regional activities and networks, we are endeavouring to connect the existing activities and players even better with each other in order to create synergies for research and development. Hydrogen filling stations, as a key infrastructure component, are an important building block in this. Hydrogen as an energy carrier, including with regard to mobility. It enables the storage of electrical energy, in large quantities and over long periods of time. Its use makes sense particularly where electrification is not feasible. This applies to heavy goods vehicles, ships and air traffic, as well as special industrial processes such as steel production. Fuel-cell electric vehicles (FCEV) are powered by hydrogen. They can be used in the same way and achieve comparable speeds and ranges as vehicles with petrol or diesel engines.  However, their engines produce no noise or pollutants. With ranges of 500 to 700 kilometres, H2 cars can be refuelled in just three to five minutes. Hydrogen offers the possibility of expanding the fuel supply in the transport sector in a climate-friendly way. Because hydrogen, especially if it is produced with renewable energy, can help to significantly reduce climate-damaging CO₂ emissions.
The hydrogen filling station network in Germany is becoming increasingly dense. There are already H2 stations at six locations in Lower Saxony, apart from Braunschweig they are in Hanover, Laatzen, Wolfsburg, Osnabrück, and Stuhr. Another one is under construction in Oldenburg.
In the months ahead, H2 MOBILITY Germany will reach its first expansion target of 100 hydrogen stations. Passenger cars and light commercial vehicles (e.g. vans) can be refuelled with hydrogen at all H2 filling stations. Buses can also be refuelled at nine locations. From 2021 on, further stations will be built where demand for commercial vehicles is expected in the short term and where a public filling station makes sense in a growing network of hydrogen filling stations.
The Braunschweig facility was already commissioned in November 2020 by H2 MOBILITY Deutschland and its shareholders Shell and Air Liquide, and holds around 200 kilograms of hydrogen. This is enough to refuel 50 vehicles a day. In the first six months, it has already dispensed more than half a tonne of hydrogen – which translates to around 50,000 kilometres of CO2-free driving.
For the construction of the hydrogen station in Braunschweig, H2 MOBILITY received funding from the Federal Ministry of Transport and Digital Infrastructure's National Hydrogen and Fuel Cell Technology Innovation Programme (NIP) .
About Shell
Shell's goal is to become a net-zero emissions energy company by 2050, in harmony with society. Shell is investing billions of dollars globally in low-carbon energy, including charging stations for electric vehicles, hydrogen, renewables, and biofuels.
Shell's other hydrogen activities:
The energy company is active along the entire value chain for green H2 – from renewable electricity to electrolysis to filling stations – and has plans for industrial applications and sustainable aviation fuel with the goal of becoming the German leader in green hydrogen by 2030. To this end, Shell is working on various large-scale projects, such as Refhyne, a 10-megawatt electrolysis plant at the Energy and Chemicals Park Rheinland, which is nearing completion and whose capacity the company would like to quickly increase by a factor of ten.
In Hamburg, Shell is a participant in the Green Energy Hub, where 100 MW of electrolysis is to be built at the Moorburg power plant site in cooperation with Mitsubishi, Vattenfall and Hamburg Wärme. Shell is thinking and planning on an even larger scale as part of the AquaVentus alliance of companies for the construction of an offshore wind farm with 10 gigawatts of generation capacity, offshore electrolysis for the production of 1 million tonnes of green hydrogen, and pipelines from Helgoland to Doggerbank.
About H2 MOBILITY
H2 MOBILITY Deutschland GmbH & Co. KG is responsible for establishing a nationwide hydrogen infrastructure in Germany. The first target is to operate 100 hydrogen stations in seven German metropolitan areas (Hamburg, Berlin, Rhine-Ruhr, Frankfurt, Nuremberg, Stuttgart and Munich) as well as along connecting motorways and highways. From 2021 on, more stations will be built wherever there is a demand for commercial vehicles and a public filling station makes sense for a growing network of filling stations for cars. H2 MOBILITY handles all the tasks – planning, construction, operation and marketing – that are necessary for successfully expanding and operating the network.
H2 MOBILITY's shareholders are Air Liquide, Daimler, Linde, OMV, Shell, and TOTAL, with BMW, Honda, Hyundai, Toyota and Volkswagen as well as NOW GmbH National Organisation Hydrogen and Fuel Cell Technology  serving H2 MOBILITY in an advisory capacity as associated partners.
For more information: h2-mobility.de
PRESS ENQUIRIES:
Shell Deutschland Oil GmbH
Axel Pommeränke, +49 40 63245290, axel.pommeraenke@shell.com
Air Liquide Deutschland GmbH
Nicola Blumhofer, +49 211 6699-4242, nicola.blumhofer@airliquide.com
H2 MOBILITY Deutschland GmbH & Co. KG
Sybille Riepe, +49 170 5870317, riepe@h2-mobility.de
Picture: Manfred Becker, Shell, Nikolas Iwan, H2 MOBILITY, Petra Möbius, Shell Station Hamburger Str; Ulrich Markurth, OB Braunschweig, und Minister Dr Bernd Althusmann