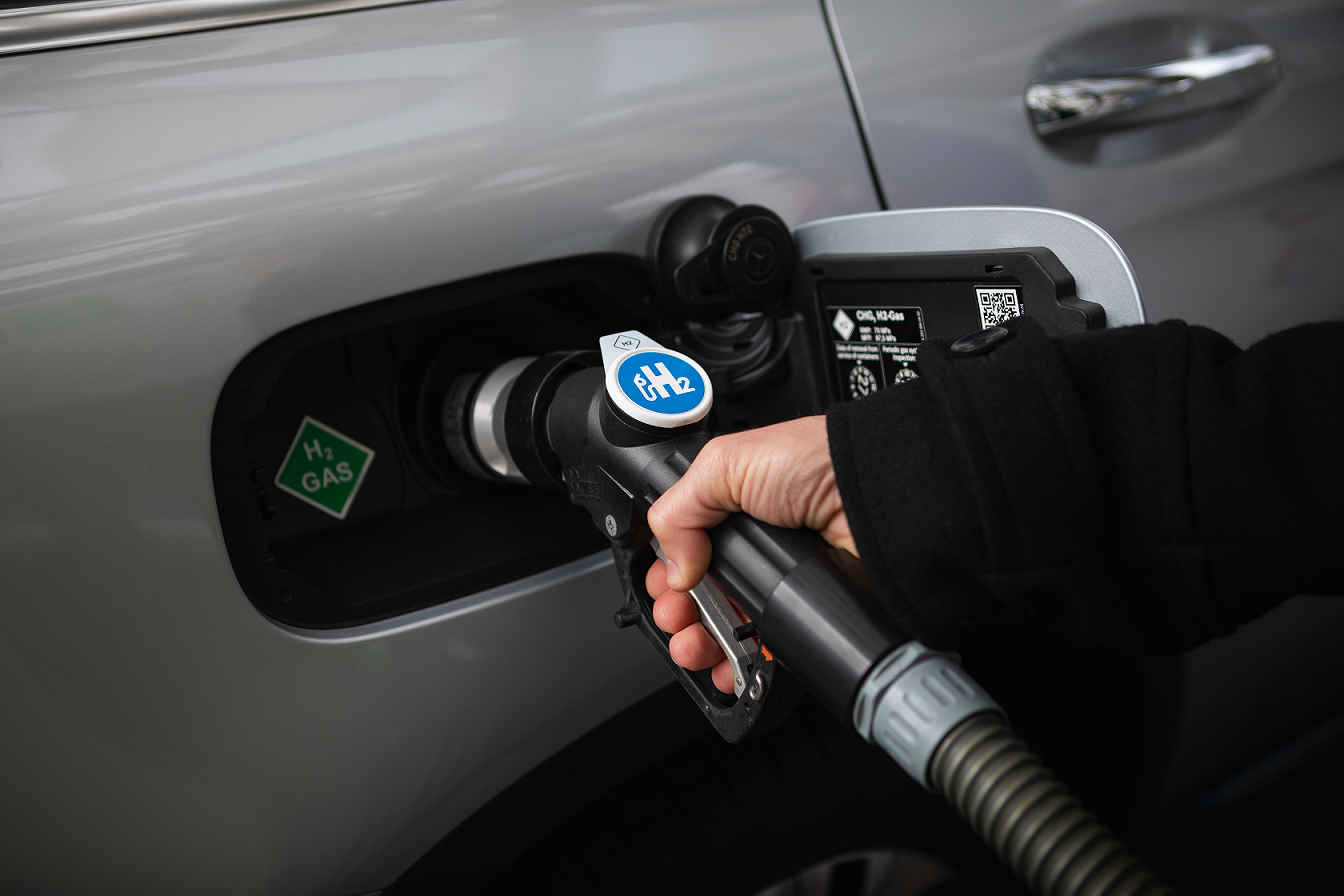 Hamburg, 18 December 2019 | Hamburg is increasingly becoming a hydrogen hub: H2 MOBILITY Deutschland and its shareholders Shell and Air Liquide have now jointly opened the Hanseatic city's fourth hydrogen (H2) filling station at the Großmoorbogen Shell Station in Hamburg-Harburg.
Hydrogen is used to refuel electric vehicles with fuel cells (FCVs). Its advantages: no noise, no pollutants, but the same use, speed and range as passenger cars with gasoline or Diesel engines. Hydrogen vehicles have ranges of 500 to 700 kilometres and can be refuelled in just three to five minutes.
The network of stations at which FCVs can refuel with hydrogen is becoming increasingly dense. There are now 79 H2 filling stations in Germany, and next year the network will grow to 100 stations, after which expansion will be continued in line with demand. At present, there are already 30 hydrogen filling stations in the Shell network in Germany.
The expansion's focuses include the metropolitan regions of Hamburg, Berlin, Munich, Nuremberg, Stuttgart, Rhine/Ruhr and Rhine/Main as well as the key connecting roads. Hamburg already has H2 filling stations in Hafen-City, on Schnackenburgallee and on Bramfelder Chaussee. The new facility at the Großmoorbogen Shell station  is located in the south of Hamburg directly at the Harburg access road onto the A1 motorway.
The owner and developer is H2 MOBILITY Deutschland, a joint venture that is building a hydrogen infrastructure in Germany. The filling station technology comes from Air Liquide. The new hydrogen station in Harburg is state of the art, featuring intuitive operation by the driver and a refuelling process similar to that of conventional vehicles. The facility holds around 200 kilograms of H2 – enough to refuel 50 vehicles a day.
Hydrogen-powered e-mobility reduces CO2 emissions
Hydrogen offers a climate-friendly way to expand the range of fuels available in the transport sector. Climate-damaging CO2 emissions can be significantly reduced, especially if the hydrogen is produced using renewable sources of energy.
"With its commitment to new energies, Shell is making an important contribution to the energy transition," explains Manfred Becker, Head of Operations for Shell's global hydrogen infrastructure. "Hydrogen is one of the best solutions for achieving the goals of the Paris Climate Change Agreement. It has the potential to decarbonise the transport sector, one of the major sources of pollution in our cities." "Air Liquide is proud to be part of building Europe's largest hydrogen infrastructure," adds Markus Schewitza, Managing Director of Air Liquide Advanced Technologies GmbH. And Lorenz Jung, Head of Network at H2 Mobility Deutschland GmbH, says: "H2 MOBILITY continues to expand the hydrogen filling station network in Germany. We look forward to having more and more customers who want emissions-free driving with the ranges and refuelling times they're used to."
The new Großmoorbogen H2 station is funded by the European Commission in the trans-European Transport Network (TEN-T CEF) as part of the Connecting Hydrogen Refuelling Stations (COHRS) project.
PRESS ENQUIRIES:
Shell Deutschland Oil GmbH:
Axel Pommeränke, +49 (0)40 6324-5290, axel.pommeraenke@shell.com
Air Liquide Deutschland GmbH:
Nicola Blumhofer, +49 (0)211 6699-4242, nicola.blumhofer@airliquide.com
H2 MOBILITY Deutschland GmbH & Co. KG:
Sybille Riepe, +49 (0)170 58 70 317, riepe@h2-mobility.de